It is one of our favourite times of the year at Miz Gooz Berry, when we remember why Jesus came. We catch up on clients who are wanting to find something different in gifts, in order to bless family, friends, as well as business colleagues. This is our 5th year of Fairs at Miz Gooz Berry.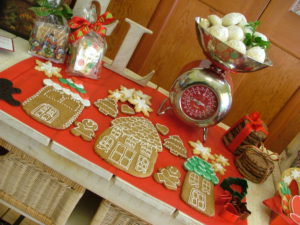 "GINGERBREAD HOUSE"
Date: Friday, 5 November                                                                         
Venue: Miz Gooz Berry
                  28 8th Avenue(corner 4th Street)
                 Northmead
                 Benoni
Time: 9am – 6.30pm. Late closing for clients that are not able to get time off work on the day.
Contact Berry for more details: 011 425- 1197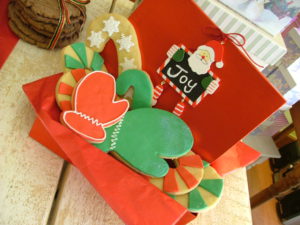 From the Northmead ovens, enjoy a feast of  tastes, browse, purchase and order from a range of Gingerbread House Cookies, Gingerbread people and Gingerbread House Kits, German cookies, Shortbread and  American cookies. All your favourite confections will also be available. The boxed Christmas cakes for corporates, as well colorfully decorated Christmas cakes, Iced and dipped Butter Sugar Cookies, Cupcakes, Cupcake Kits, Pretty Gun Metal Cookie Jars and  Willow baskets. Gift boxes decorated with German ribbons are the all time favourite, filled with a selection of our cookies and some of the exibitors foods.
Specials on Friday only will be Toffee Crunch muffins, Vanilla cupcakes  with Gingerbread people,  100's and 1000's dipped butter sugar cookies, especially for the little ones that accompany Mom's.
A select number of exhibitors will be attending: Photo – M, for bookings of Christmas potraits, Hevanna Crafts for Garden and home Christmas willow decor with lights,   Pretty Boxes' cupcake wrappers, Margot  with Aloe Ferox and True Vine Jewellery, Christina's Greek Christmas Cookies and Marizz Fooz  with Basil Pesto, Mustards, Dressings and Lavender Bath Salts.
Great gifts for teacher's!
Stand a chance of winning  a gift box of goodies filled with some choice products from our exhibitors, by putting your name on our mailing list in order to be notified of the other  Berrylicious Fairs to be held next year.
Refer to the East Rand `s  latest local "Get It" magazine for an article on Miz Gooz Berry, as well as two free recipes for Christmas-  Chocolate chip cookies and Nubbe Balle.
See you in the Gingerbread House!