We have had a few weeks of a large number of birthday cakes for children.
Ryan's 4th Birthday cake.
"Cowboys and Indians"
A vanilla sponge with a caramel treat filling and coating. The tee pee is a dummy which is easily removable for the birthday boy to keep. Tammy made all the Pettinice finishes for this cake.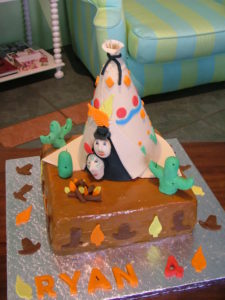 Baby Benicio's 1st Birthday cake. Giraffe and Ellies were the theme we chose for this fellow. The cake  was a Continue reading →