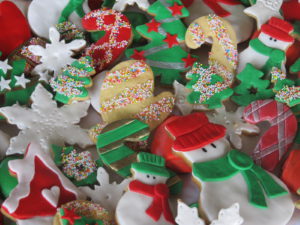 It gives me great joy to introduce this year's cookies and Christmas cakes. Our selection of cookies have been sourced from the following countries:
Mexico, America, Middle East, Holland, Germany and Britian.
As always, butter rules. If you have an intolerance to dairy/wheat products, please ask about alternatives. All your favourite confections are still available during the Christmas season. The "Berrylicious Christmas Selection" is a limited edition for the season.
As always, cookies and cakes are made to order. A small selection will be  available in the Pop-up shop, but it is advisable to order, in order to avoid disappointment.
20 families or corporates can taste a selection of our Christmasigoodies.
Phone me on 082 8836192 to book your sample pack. Client would be required to collect their sample pack from Kaapsche Hoop. Value of sample pack is R50.
BERRYLICIOUS CHRISTMAS SELECTION
Soft, Lightly Spiced, Gingerbread Folk and Houses
Mexican Chocolate and Pecan Cookies(rolled in icing sugar)
Dutch Gevullde Spekulaas ( Sue's recipe)
Themed, Iced and Dipped Butter Sugar Cookies
Rugelach
German Honey Jumbles
Snickerdoodles
Christmas Mince Pies
Dream Bars
Moist Christmas Cakes wrapped in cellophane, with a Christmas closure. Iced cakes can be ordered.
THEMED GIFT BOXES OR CELLOPHANE PACKETS OF CHRISTMAS COOKIES can be ordered.Prices from R60 – R1000+