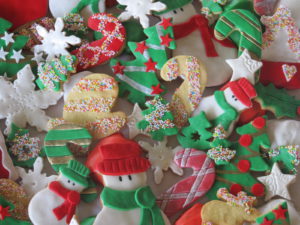 Both branches are busy with their Christmas orders at present. Here are some of what is on offer from the Kaapsche Hoop branch. I close from 23rd December till the 28th and am open from 29th till 31st December. Weekend opening in tea garden in January will be as usual.
A selection of cookies from around the world are on offer at the Mpumalanga branch. Please contact branch closest to you for their full cookie selection.
German: Honey Jumbles and Zimsterre
Dutch: Gevullde Spekulaas.
American: Chocolate Chip, Snickedoodles, Iced seasonal themed cookies(made to order).
Scottish: Traditional and Lemon/Lavender Shortbread
British: Mince Pies and Dream Bars
Our specialities: Granny Millers, Spiced Cookies, Chocolate filled Shortbread Balls, Lemon Meltaways, Gingerbread (suitable for children), Hazelnut Snowballs.
Cookies are packaged separately in packets or gift boxes. Please contact us asap to ensure you get your in timeously.
Barbara's Christmas cakes are once again in the shop. The very best cakes, well brandied and filled with lots of goodies. Smaller cakes are on offer this year. Limited stock still available.
Picnics can be ordered. Beautiful walks and places to relax with loved ones on our escarpment, at the Pear Orchard or at the waterfall.
Travel safely and have a special time with family and friends.