Life has been a bit hectic with having flu  and trying to catch up on quotes, doing workshops, celebration cakes, functions ,wedding cakes and prepaing for our move. I never knew that I had so much equipment in the business. When you are using it all the time it doesn't seem as much.
Here goes, I need to catch up.
CRICUT CAKE HAS ARRIVED IN S.A.
The Cricut Cake machine has finally arrived. Here is our first cake that we finished with cut outs(in black gumpaste) made with the Cricut machine. It is an absolute blessing. The local Pettinice is too soft to be used, so we are making a gumpaste that we cook and roll out onto the cutting sheet. To find out more about the Cricut Cake, go to www.cricutcake.com
This design was inspired by a PINKCAKE BOX design that the bride showed me.
 Silk roses were requested. First time I have used them.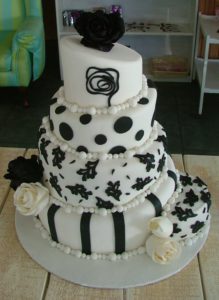 BRIDAL FAIR AT SUMMERPLACE
I attended a bridal fair at Summerplace this weekend. This is the first time that we has exhibited Pettinice finishes. The brides loved both designs on display. Tammy made the modern one and Barbara made the more classical one. Vintage Wedding boxes created a lot of interest, as quite a few brides are opting for  lace and Vintage finishes.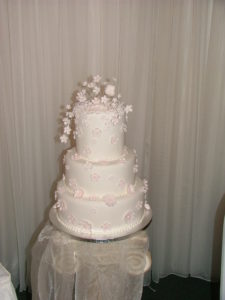 BARBARA'S CAKE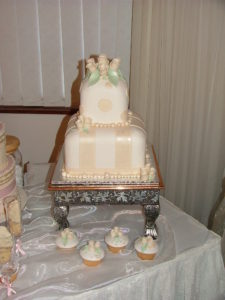 TAMMY'S CAKE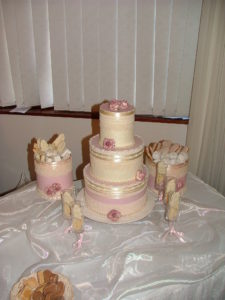 VINTAGE WEDDING BOXES FILLED WITH CONFECTIONS(excuse plate in corner).
WEDDING CAKE TASTING
Date: Saturday- 24 July
Time: 9am- 11am
Venue: 63 5th Avenue
Northmead
Benoni
Bookings essential(by Wednesday this week)
Regret- no children.
Tel Berry : 011 425-6217
Cost: R15 per slice of cake or cupcake chosen.