Sunday afternoons are great for recovery. I have just woken up from a three hour sleep. What a long, busy week we had.
A cupcake week of note. Matilda baked in excess of 200 vanilla ones for orders.
MAYA'S SECOND BIRTHDAY
I had the priviledge of catering Maya's first birthday and now her second one as well. Theme this time was" Mad Hatter"
Being small, I thought that she would appreciate bright colours and Mom Kerry saw the previous one I did with cupcake designs, so the hat was swopped for the cupcake theme. I had fun putting this one together. It was a vanilla sponge with buttercream and a dummy on top. The cupcake on top is real.It took about three hours to do the finishes on the cake.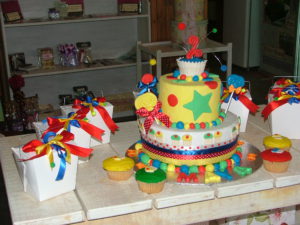 Foodie boxes for the children with themed cupcakes.
THE GLASS CAKE
This is Brendon's family's favourite cake. They have nicknamed it the glass cake. It is normally a pecan nut(or almond vanilla sponge), filled and covered in caramel cream. The "glass" is praline(sugar and water).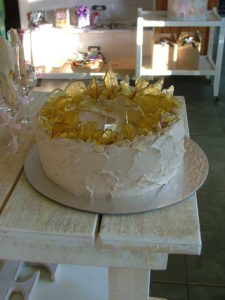 ERIN's 9th birthday Fairy Cake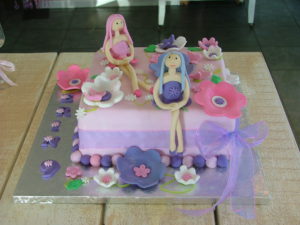 Tammy was at it again, making fairies. These had long legs without wings(modern ones) – "Beam me up". A petite young lady,  Erin pepped through the glass doors on collection of the cake and smiled. Thanks Tammy you did it agian. One more happy Princess.
PICNIC TO THE PILANSBERG
This is the first of two picnics being done for Excursions who take guests on luxury safaris and set up mobile camps. One of the sponsors for the soccer booked this for their guests. What a beautiful day for a picnic in the game park. The baskets were collected at 6.30am this morning. Look at their website www.experiences.co.za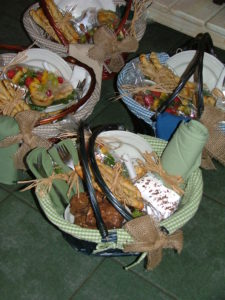 Thank you to all my staff, as well as Daphne and Peter of The Cheesevine who helped prepare for this picnic and all the others we have had in the past. The compliment received from one of the partners of Excursions is for all of you. " We are prepared to travel so far because of the quality of the food". I am so blessed to have you all on my team. You help to make Miz Gooz Berry products and services so special for all of our clients.