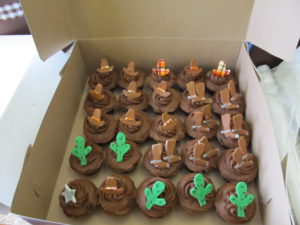 Getting back to normal  has its challenges when you have jet lag.
Here is  some of  work, some  not yet on the site 
The Wild West themed cupcakes and top cake were for a 21st.
Hayley's 3rd birthday, Jungle themed cake.
First attempt at Brush Embroidery, using Royal icing. Still a long way to go.
"REACH FOR A DREAM" asked us to participate in a little girl's dream.  This was the Princess box of gifts and foods that we packed for her, as she was attending the live show- Princess and the Pea.