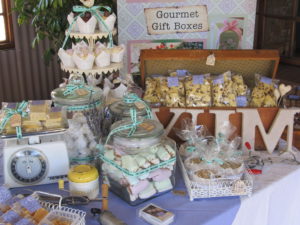 Ice Cream is needed in our village. So what better time to develop some homemade, double cream ice creams and sorbets.
Flavours available at the moment:
I try out one or two new flavours every weekend.
English Toffee
Vanilla Chocolate Fudge Brownie
Vanilla Chocolate – Chip
The Pop-up shop is doing well. Sweet – Toothers are finding their fix with the new confections as well as our favourites.
Menu for this weekend:
Mini 3P Cakes (Pecan, Pumpkin and Pineapple)
Mini Chocolate Fudge Cakes
Cranberry Bliss Bars
Luscious Lemon and Toasted Almond Slices
Miz Gooz Berry's Old English Toffee
Binky's Butter Fudge
Strawberry Macaroons
Chocolate filled Butter Shortbread Balls
Spinach and Danish Feta Quiche, Bacon, Cheese and Onion Quiche Ratatouille Quiche
Lemon Sorbet
Double Cream, Chocolate Fudge Brownie Ice Cream
Shop hours for 28 and 29 September: Saturday: 10am -3pm
                                                                             Sunday: 11am – 3pm
On main road, follow signs down Holtshauzen Street to 192 Coetzee Street, Kaapsche Hoop.
Wheat – free and  lactose- free confections  are being launched at present.
Chocolate Coffee Almond Sugar Snap Cake is my latest creation. It is wheat -free and can also be made lactose – free.
Mpumalanga clients: Give me a call if you are needing cakes, etc, but have specific dietary requirements. We try to service all, if at all possible. These are only made to order.
 082 883 6192.
We are waiting for our landline, which we hope to have soon.
Yours from the Kaapsche Hoop Ovens
Berry Legg