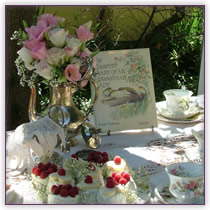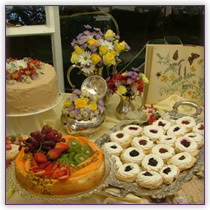 English Teas
Modern or classically decorated tea parties are a spoil and allow your guests to relax and enjoy a touch of the old way of doing things, in style and with much heart.
Modern
Bright fresh seasonal flowers, serviettes, crockery and cutlery add a fun element to a modern tea. A twist on the traditional cucumber sandwich and the chicken mayonnaise sandwich is once again challenged by Berry`s Phyllo Chicken cups.
Classical
As an avid collector of old crockery, silver, stands, servers and much more, classical English Teas are Berry`s passion. Just the occassion to dress up, bring out that hat and relax.
Functions at Miz Gooz Berry
Bookings are taken for brunches and teas for up to 12 guests.
Phone: 082 883 6192 for more details.