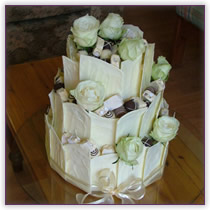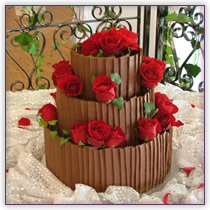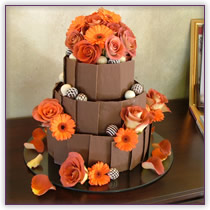 Wedding Cakes
Wedding Cakes Individually designed to meet the client`s requirements. Chocolate cakes reign supreme at Miz Gooz Berry.
Popular choices:
The Tumbles
Old English Toffee Mousse Cake- chosen as the second best chocolate dessert cake in Johannesburg by Fair Lady magazine in 2001
Chocolate Nougat Ganache- an award winning cake in a Snowflake Heritage Competition
Ebony and Ivory van Der Hum Chocolate Mousse
Flaked Almond Vanilla Sponge, Strawberry Mousse (seasonal)
Kahlua Pecan Mousse
Mocha Orange Pecan Nut
Vanilla Sponge Custard Cream with Fresh Fruit
Vanilla Sponge Lemon Custard Cream with Fresh Fruit
Frangelico Chocolate Raspberry Mousse (seasonal)
Bar- One
American Cheesecakes - Blueberry Swirl/ Strawberry Swirl
Double Chocolate Cheesecake
Stacked imported and local cheese displays
Vanilla Sponge Lemon / Vanilla Custard Cream with/ without Fresh Fruit.
Vanilla and Chocolate Sponges with Buttercream or Ganache
Celebration Cakes: Children's (and for those young at heart), Christening cakes.
Cakes for all special occasions can be created for you incorporating your favourite flavours.