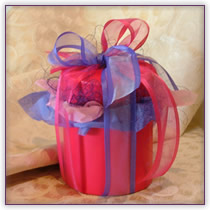 We compliment our confections with Nougat and Turkish Delight that are made by two outstanding suppliers. Each box is individually finshed with German ribbons as well as local ribbons and embellishments. Each box is a Miz Gooz Berry original.
No box is too small.
The corporate client who is looking for something different to the traditional logo on finished boxes, are welcome to call on us for our unique gifts. Contents in boxes can be the same, but finishes are all different.