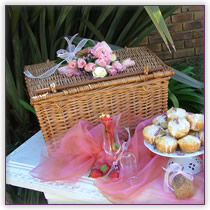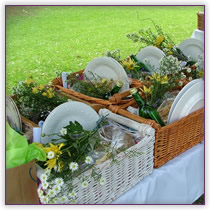 Baskets
Gourmet, handmade foods served on platters, garnished with fresh herbs and flowers are covered in cling wrap. Crockery, cutlery and linen are provided and are on hire to the client. A personalized menu is included in the basket.
Fresh flowers can be attached to the basket at an extra cost.
Maximum number of guests served in baskets: 100 per function, serving two guests per basket.
Picnic Boxes
Themed boxes are filled with our gourmet , handmade foods and are placed in good quality disposable containers. The menu is included. Wooden spoons, knives and forks and plastic plates are supplied with a paper serviette.
Menus are tailored made to enhance the function.