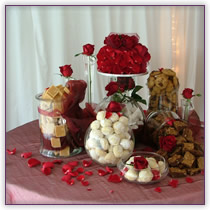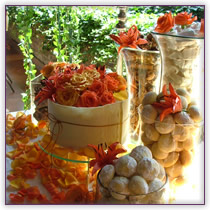 Wedding Vases
As with wedding boxes, we use glass vases filled with a selection of our confections. A flower arrangement in a glass vase forms part of the arrangement. A small cake is sometimes added to the display for the couple to cut.
Choice of confections:
Miz Gooz Berry`s Old English Toffee
Binky`s Butter Fudge
Meringues
German wafers- dipped in chocolate
Belgian Truffles
French Macaroons
Chocolate-chip Cookie
Chocolate filled butter shortbread balls, dusted in icing sugar
Nougat
Turkish Delight - Rose, Original or Pecan Nut Prince
Lavender Shortbread
Shortbread
Caramel Shortbread and Coconut Fingers
Double Chocolate Fudge Nut Brownies
Double Chocolate Brownies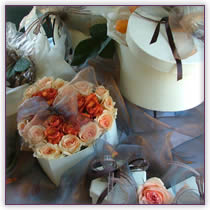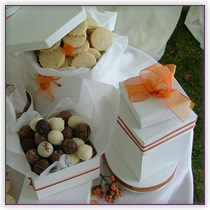 Wedding Boxes
Boxes of various shapes and sizes, designed to suit the theme at the wedding are lined with tissue paper and filled with a selection of our small confections. Guests help themselves to the confections when coffee is served. This idea can be combined with gifts for the guests. Confections can be placed in cellophane packets, with thank you cards for the guests.
Choice of Confections
Miz Gooz Berry`s Old English Toffee
Binky`s Butter Fudge
Meringues
German wafers- dipped in chocolate
Belgian Truffles
French Macaroons
Chocolate filled butter shortbread balls, dusted in icing sugar
Nougat
Turkish Delight – Rose, Original or Pecan Nut Prince
Lavender Shortbread
Shortbread
Caramel Shortbread and Coconut Fingers
Double Chocolate Fudge Nut Brownies
Double Chocolate Brownies
Chocolate Crackle Cookies
Cranberry Bliss Bars
Chocolate Peanut Butter Cups
Iced Butter Sugar Cookies
Sandwiched Cookies
Pecan Nut Shortbread Balls, dusted in Icing Sugar
Romany Creams
Belgian Chocolates