"THE BIG TOP"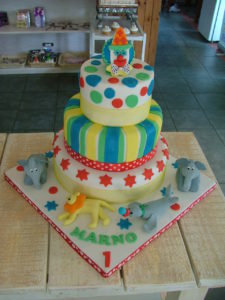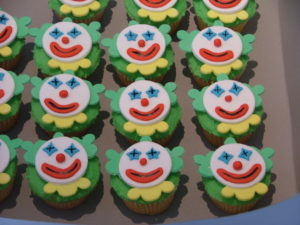 We had such fun making this vanilla sponge cake with buttercream and Pettinice finishes. The client requested bunting and cupcakes to match the theme.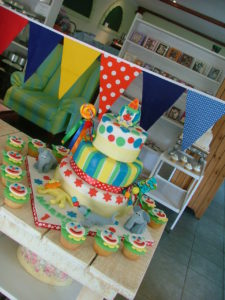 The completed cake , etc.
HAPPY 1 ST BIRTHDAY MARNO
THE TIME HAS COME TO MOVE!
Miz Gooz Berry closes her doors at 63 5th Avenue, this Friday, 30 July and re- opens the new Miz Gooz Berry on 6 August.
We have had a great stay in our present shop. Thank you to Ian  for being such a great landlord. May your business, Procycles be blessed. Many fond memories were made in this shop.
New Address: 28 8th Avenue(corner 4th Street)
Northmead
Benoni
Tel: 011 4251197
Fax: 011 4251197
SHOP HOURS: TUESDAY TO FRIDAY 9am – 5pm
SATURDAY: 9am – 1pm.
For the ordering of wedding / celebration cakes, please either forward a contact through the site, or make an appointment to see me. I book cakes/functions/ picnics as early as 4 months in advance.
Bookings are taken for Brunches, High Teas, Cupcake and Cookie decorating workshops. Please note that I do not offer a coffee shop service.
CUPCAKE WORKSHOPS
The further Cupcake workshop's  dates will be posted as soon as I can find a gap in between our wedding and celebration cake orders. I have only one open weekend between now and the 1st weekend in November. I will try and fit in the workshops on days where we are not delivering all Saturday afternoon.