I love seeing the faces of children who come along to collect their cakes with Mom or Dad. Here are a few that I have from the last two weekends. Every now and then a Mom sends a photo from the  party as well. Thank you, it adds such value to what we do.
Byron turned 4 . We have serviced this family since Bryon turned 1. He had a soccer party. When asked to smile, this is what we got.  A healthy pearly white smile.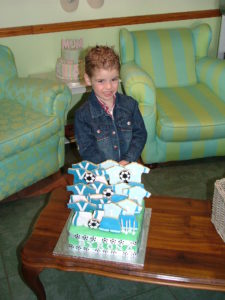 David had a rock star party. He turned 6.  We emphasised the star on this Tumbles. He could not resist licking the cake on seeing it. The lick was at the back. Each photo taken had his tongue out of his mouth.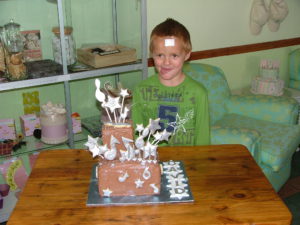 Maya turned two and had a cupcake Mad Hatter's themed party.
Kerry(Mom) kindly forwarded this message as well as details of Maya's party.
Dear Berry
 I wanted to drop you a note to thank you for the beautiful boxes and  cake for my daughter's birthday!
I have attached some photos of Maya with the cake. You will see that she  got stuck into the cupcakes before any of her guests arrived! It was  great to know that even though the kiddies had lots of sweet yummy things, they were good sweet yummy things made from good ingredients and  assembled with such care. 
 All the best
 Kerry
 Here we have Maya doing a  Goldilocks on the cupcakes.
" Too red, no, one is not enough."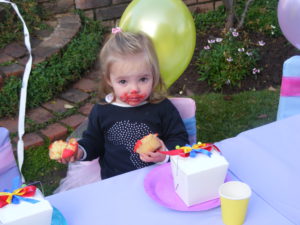 "As for you on top, I will attend to you later".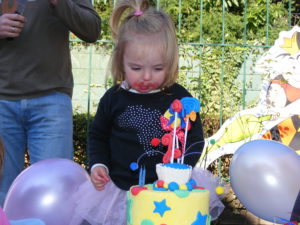 "The yellow one, yes, cupcake heaven, I have arrived".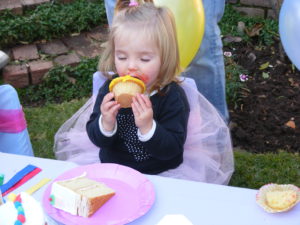 Happy birthday Maya. I so enjoyed preparing for your special day.
Watch this space for more kiddies cakes and a cupcake workshop. We have had a busy last two weeks, so I will blog again in a few days time.
THE MOVE
We will be moving at the end of July. Not to Western Extension, but to 28 8th Avenue, Northmead, Benoni. The other propery unfortunately did not have the correct zoning. The Gooz is moving back to her first nest. My phone number will be changing as of 1 August to 011 425- 1197.