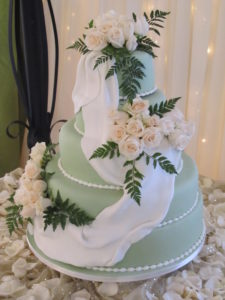 It is amazing to see what my staff are capable of doing. Sometimes as many a 4 of us work on a single cake.  Barbara did all the Fondant finishes and I did the fresh flower finish. 
This weddding cake consisted of 4 flavours- Vanilla Sponge Buttercream, Vanilla Sponge with  Granadailla Buttercream. Chocolate Sponge with Chocolate Buttercream, Pecan Nut Vanilla Sponge with Orange Syrup and Coffee Buttercream.
BLING SHOE AND HANDBAG CAKE
Bling does not come easy to me, so doing this was a bit out of my comfort zone. Thank goodness the design worked. Clients are now requesting drawings of their cakes. Having a visual mind, I am able to see it and produce it in 3 -d, but now need to draw it first. There is always a new challenge that keeps us on our toes. Our client was happy with the end result. Happy 50th Birthday to you.
Matilda baked the cakes, Barbara did the Fondant finishes and Tammy did the shoe and handbag. I act as apprentice to these Fondant experts,  designing, rolling balls,  cutting dowel supports and helping with putting them together. The flavour was The Tumbles Cake with milk chocolate ganache.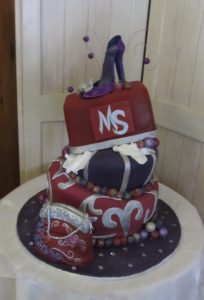 We love our work and the challenges that we face.
No need to do branded themes when you can create your own.
Watch this space for  "Open Berrylicious Christmas" this year. We will not be holding an official launch day, but will post all Christmas delights, ribbons and services on the blog , quite soon.  Corporate Christmas cookies will be vaiable as well for order this year, with an extended range of specialised cookies- Yumm!  All our German, Halbach ribboons and Christmas stock have arrived.
Yours in Cake Crumbs
Miz Gooz Berry